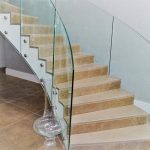 Curved glass spiral stairs in Stockport may be the answer when there is little space and you don't want a crowded look. Or, curved glass spiral stairs could be the large dramatic focal point for your home or the lobby of your futuristic modern building. We specialise in the use of curved glass to enhance the architectural appeal of both domestic and commercial properties. The hardening of the glass during heating and bending does not negatively impact the clarity of the glass. You'll see a great clear open air look if that's what you want. However, if you prefer a tinted glass, do the tinting first. The final result can be very dramatic. It's important to know that curved glass spiral stairs are strong, durable and above all, safe.
There are more options available when you begin to select the balustrade. For our projects in Stockport, curved glass spiral stairs usually have a protective balustrade of curved glass. It's an essential safety feature and does nothing to diminish the open air view. However, we have some wonderful designs incorporating fine stainless steel as an added attraction. We fabricate and install all types of staircases and balconies. All of our designs utilise only glass, stainless steel and wood for a clean modern fine line look. Each of our designs makes an architectural statement while providing the needed function.
There is nothing standard about curved glass spiral stairs in Stockport, other than quality. Each must be custom designed and fitted for the space. Curved glass stairs and balustrades are gaining in popularity. Why wouldn't they when they're so graceful? But another reason is they're easy on your environmental conscience. They'll last about as long as you want them. However, the raw materials are sustainable and recyclable. That's actually true of all our materials used for building our custom staircases. Contact Fine Line and tell us how you envision curved glass spiral stairs in your home. We will make it happen.